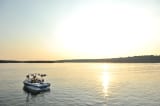 TIGE BOATS INCREASES POWER IN CENTRAL CALIFORNIA
Tige Boats is pleased to announce Semper Speed & Marine to the worldwide network of authorized Tige dealerships.
Located in the heart of the Central Valley between Fresno and Madera, CA, Semper Speed & Marine will soon have the full range of Tige models showcased at the largest indoor showroom in CA. Their dealership also houses an expansive pro-shop and superior service dedicated to keep you and your family enjoying your experience on the water. Contact them today to schedule a personal test ride in a 2016 Tige.
"A visit to the Tige Boats manufacturing facility in Abilene proved to me that Tige is the premier watersports line we want to represent for Central California," said owner Mark Semper. "We are very excited to serve all boaters, and especially existing Tige owners in our area."
"Semper Speed & Marine's strong dedication to their customer's needs and a passion for the Tige lifestyle, make them a perfect fit to the Tige family," said Tony Fussell, Director of Sales. "We are proud to have them part of the Tige team."
Contact Info: Semper Speed & Marine
10854 N Hwy 41
Madera, CA 93636
(559) 436-1888
mark@semperspeedandmarine.com