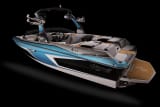 Tige Boats Introduces the Redesigned 22RZX
ABILENE, TX - Tige Boats, Inc. recently released the all-new and redesigned 2022 22RZX. Sporting a new look for its 2022 return, the 22RZX doubles down on style, capability, and innovation. Exuding confidence, its sporty design is complemented by a spacious cockpit, deeper freeboard, cutting-edge interior, and state-of-the-art technology.
Performance, handling, and efficiency work together to create an epic on-water experience. Key new features to the 22RZX include Tige's iconic diamond stitching, massive amounts of storage throughout, striking exterior body lines, Triple Laser Non-Skid, enhanced LED packages, and complete walkthroughs from bow to transom. The 22RZX brings style without sacrificing on storage. Storage enhancements include the Surf Locker that can fit up to four boards, bow storage, optimized space under the observer and cockpit seats and the all-new Double Up Transom Storage.
"After a successful release and excellent feedback on the all-new 24RZX, we were ready and excited to re-introduce the 22RZX back into the market," stated Charlie Pigeon, Owner, and CEO of Tige Boats, Inc. "The RZX Class has consistently been recognized for its sporty, razor-edge designs and top-of-the-line performance. Our team knocked it out of the park and exceeded expectations for these new models."
Offering the perfect balance of style, versatility, and downright sportiness, the 22RZX gives you the power to do what you want on the water. The surf performance of the 22RZX is in line with what you expect from a Tige -- it's long, powerful, and ready to outperform every other boat on the water. You can dial in your sport of choice at the push of a button, whether it's wakesurfing, wakeboarding, or skiing. Boasting the largest and most intuitive touch screen, the GO System powered by TAPS 3T and intelligent Smart Wheel controls, the 22RZX is truly next-level.
22RZX SPECS:
Length: 22'5"
Beam: 102"
Weight: 5800 lbs
Ballast: 3400 lbs
Fuel: 57 gal
Seating: 16
Tige Boats, Inc. is a world-renowned innovator, designer, and manufacturer of high-performance inboard boats. Celebrating their 30th anniversary, Tige has cultivated its iconic brand image through their industry-leading innovation, luxurious diamond-stitched interiors, and multisport versatility. From their world-class manufacturing facility and across the 2022 product line, Tige's consistent design-driven mentality has refined the marketplace while forever intensifying the love for wakesurfing, wakeboarding, and waterskiing. Experience the 2022 Tige and ATX lineups now at TIGE.COM / ATXBOATS.COM