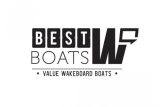 Tige Boats Named Best Value, Best Wakesurf Boat, Best 20 footer
Everyone looks for and wants different features in their boat of choice. Some want the most bang for their buck, some want more storage, and some simply just want to have the best wake on their lake. The Tige Boats 2013 product line as been voted to have boats for the best value, wakesurf wave, and best boat in the 20 foot category.
Best Value (Voted by Wakeboarding Mag): Tige R20
The Tige R20 is the boat for you if: You are first-time inboard boat buyer who wants all the wakeboarding essentials without breaking the bank.
Best Wakesurf Boat (Voted by Waterski Mag): Tige Z3
The Tige Z3 is the boat for your if: You're looking for the best wakes and all the amenities Tige has to offer in this top-notch wakeboarding machine.
Best 20-Foot Boat (Voted by Wakeboarding Mag): Tige RZR
The Tige RZR is the boat for you if: You are looking to have all the luxury and amenities of a flagship boat but in an easy-to-handle high-end 20-foot version.
For more information on these boats, check out tige.com, wakeboardingmag.com, or waterskimag.com.