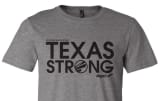 TIGE BOATS RAISES FUNDS FOR HURRICANE HARVEY RELIEF THROUGH 'TEXAS STRONG' SHIRT
TIGE BOATS RAISES FUNDS FOR HURRICANE HARVEY RELIEF THROUGH 'TEXAS STRONG' SHIRT

ABILENE, TX -- In the wake of Hurricane Harvey's disaster and destruction, Tige Boats is providing relief for the tragedy that unfolded in their home state. With the support of the boating industry, Tige Boats is giving the opportunity to step up and help with the purchase of a t-shirt that symbolizes Texas being stronger than the storm, or "Texas Strong." 100% of your purchase of a $20 [adult size] or a $15 [youth size] Texas Strong t-shirt will be donated to the American Red Cross.
You can help Tige Boats help Texas to be stronger than the storm. Purchase a Texas Strong t-shirt on Tige's gear store by clicking here.
ABOUT THE AMERICAN RED CROSS
The American Red Cross shelters, feeds and provides emotional support to victims of disasters; supplies about 40 percent of the nation's blood; teaches skills that save lives; provides international humanitarian aid; and supports military members and their families. The Red Cross is a not-for-profit organization that depends on volunteers and the generosity of the American public to perform its mission.
ABOUT TIGE BOATS
Going on 27 years, Tige Boats continues to place innovation and passion at the heart of their boats. Today, Tige keeps these values alive with one common goal in mind—to make your ride better than anything else on the water. From their world-class manufacturing facility and across the 2017 product line, Tige's consistent design-driven mentality has refined the marketplace, while forever intensifying the love of life on the water. Become a part of it at tige.com.