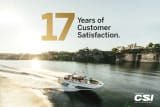 Tige Boats Receives Industry-Leading 17th NMMA CSI Award
ABILENE, TX — For an industry-leading 17th year, Tige Boats is honored to announce that they have once again received the prestigious National Marine Manufacturers Association's (NMMA) Customer Satisfaction Index Award. The CSI Award is presented to the marine industry's top manufacturers who actively measure customer satisfaction and pursue continuous improvement to serve their customers better. This distinguished accolade marks the 17th CSI Award for Tige to receive. No other inboard manufacturers have won this award more than Tige Boats.
"I am extremely proud of the Tige team, our dealers, and supply chain partners that contribute to our success in customer satisfaction," stated Charlie Pigeon, Owner, and CEO of Tige Boats, Inc. "But at the end of the day, Tige wouldn't be where it is today without loyal customers who share our passion for boating and enjoy spending time on the water."
The Marine Industry CSI Award recipients have achieved and maintained an independently-measured standard of excellence of 90 percent or higher in customer satisfaction over the past year, based on information provided by customers purchasing a new boat or engine during the period between January 1, 2021, and December 31, 2021.
Tige Boats, Inc. is a world-renowned innovator, designer, and manufacturer of high-performance inboard boats. Celebrating their 30th anniversary, Tige has cultivated its iconic brand image through their industry-leading innovation, luxurious diamond-stitched interiors, and multisport versatility. From their world-class manufacturing facility and across the 2022 product line, Tige's consistent design-driven mentality has refined the marketplace while forever intensifying the love for wakesurfing, wakeboarding, and waterskiing. Experience the 2022 Tige and ATX lineups now at TIGE.COM / ATXBOATS.COM