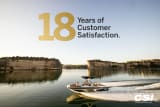 Tige Boats Receives Industry-Leading 18th NMMA CSI Award
ABILENE, TX — For an industry-leading 18th year, Tige Boats is honored to announce that they have once again received the prestigious National Marine Manufacturers Association's (NMMA) Customer Satisfaction Index Award. The CSI Award is presented to the marine industry's top manufacturers who actively measure customer satisfaction and pursue continuous improvement to serve their customers better. This distinguished accolade marks the 18th CSI Award for Tige to receive. No other inboard manufacturers have won this award more than Tige Boats. ATX Surf Boats also received a 2022 CSI Award, further proving the brand's dedication to customer experience and forward-focused success in its competitive segment.
"Tige Boats was built upon principles that customer experience is among the most crucial areas of a business for continued growth and long-term success," said Charlie Pigeon, Founder and CEO of Tige Boats. "We are honored to be once again recognized as a leader of customer success in the boating industry, reflecting the incredible amount of hard work and devotion our team invests into ensuring the happiness of our customers every day."
The Marine Industry CSI Award recipients have achieved and maintained an independently-measured standard of excellence of 90 percent or higher in customer satisfaction over the past year, based on information provided by customers purchasing a new boat or engine during the period between January 1, 2022, and December 31, 2022.
Tige Boats, Inc. is a world-renowned innovator, designer, and manufacturer of high-performance inboard boats. Celebrating their 31st anniversary, Tige has cultivated its iconic brand image through their industry-leading innovation, luxurious diamond-stitched interiors, and multisport versatility. From their world-class manufacturing facility and across the 2023 product line, Tige's consistent design-driven mentality has refined the marketplace while forever intensifying the love for wakesurfing, wakeboarding, and waterskiing. Experience the 2023 Tige and ATX lineups now at TIGE.COM / ATXBOATS.COM