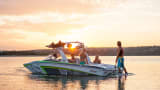 Tige Boats Welcomes 5th Gear Cycle as a New Dealer
ABILENE, TX – Tige Boats is pleased to announce that 5th Gear Cycle has joined their worldwide family of dealers.

Located in Tulsa, 5th Gear Cycle will serve current and future Tige owners in northeast Oklahoma, covering the Grand Lake of the Cherokees, Lake Skiatook and several more. 5th Gear is one of the largest and most successful power sports dealers in the Midwest carrying several high-end brands, but they've always had an undeniable passion for wakeboarding and wakesurfing.

"We're in the business of power sports and we've always been fans of the Tige product and brand, so it was an obvious choice of which boat brand we should pick up," said Chad Smith, Owner. "We've spent a significant amount of time in the 2016 Tige lineup, and there's no wake boat more powerful than Tige's flagship model, the Tige RZX." 5th Gear currently has in stock a wide variety of Tige models, including two Tige RZXs.

Tige Boats is represented by a world-wide dealer network. Dealership opportunities continue to be available both in the US and internationally to those dedicated to carrying on the Tige legacy and commitment to customer service to Tige customers.

Contact Info: 5th Gear Cycle
1200 SW Expressway Dr.
Broken Arrow, Ok 74012
918-258-4774
www.5thgearcycle.com

Celebrating its 25th Anniversary, Tige Boats continues to place innovation and passion at the heart of their boats. Today, Tige keeps these values alive with one common goal in mind—to make your ride better than anything else on the water. From their world-class manufacturing facility and across the 2016 product line, Tige's consistent design-driven mentality has refined the marketplace, while forever intensifying the love of life on the water. Become a part of it at tige.com.