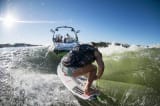 TIGE BOATS WELCOMES BOHNER LACEFIELD MARINE AS A NEW TIGE DEALER
Abilene, TX – Tige Boats is pleased to announce Bohner Lacefield Marine as a new Tige dealer. Located in Fresno, California, Bohner Lacefield will represent current and future Tige owners in Central CA.
Going on an outstanding 80 years and 4 generations, Bohner Lacefield is a highly reputable family owned dealership. They are the only shop in the Central Valley that offers a full one-stop shop for all customer needs with parts, accessories, service, storage and much more! Ryan Lacefield, Owner of Bohner Lacefield, says that Bohner Lacefield really pride themselves on excellent customer service; "we have a lot of customers that are second and third generation buyers, and one of the reasons we love Tige is because they care about the customer and the product, just like us."
Stop by and check out the full Tige line at Bohner Lacefield, including the aggressively priced R-Series models and flagship RZX models. Tige Boats is excited to have Bohner Lacefield as a member of the Tige family and look forward to connecting with current and future Tige owners in Central California.
Tige Boats is represented by a worldwide dealer network. Dealership opportunities continue to be available both in the U.S. and internationally to those dedicated to carrying on the Tige legacy and commitment to customer service to Tige customers.
Contact info: Bohner Lacefield Marine
10740 CA-41
Madera, California 93636
(559) 431-0336