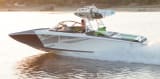 TIGE BOATS WELCOMES BREAKWATER MARINE AS A NEW DEALER
ABILENE, TX – Tige Boats welcomes Breakwater Marine to their worldwide family of dealers.

Breakwater Marine will exclusively serve current and future Tige owners in British Columbia's Lower Mainland and South Vancouver Island. The family owned dealership is known for their top-notch sales and service departments and is home to a 3.5-acre facility that sits in the most desired location in Southern BC. Breakwater Marine currently has a variety of boats in stock, including Tige's flagship model, the RZX.

"Both Tige and Breakwater Marine have mutual goals in providing the best in sales and long term servicing. Our customers have told us what they want, and we know Tige will be a fantastic fit as this segment of the market continues to grow in our region," said Aaron Fell, President & CEO of Breakwater Marine. "The team felt that Tige was the best fit for us and their new Tige 5 Warranty ensures our customers peace of mind and a great servicing experience in a seasonal market. We are very proud to partner with Tige Boats, and are looking forward to a great future together."

Tige Boats is represented by a world-wide dealer network. Dealership opportunities continue to be available both in the US and internationally to those dedicated to carrying on the Tige legacy and commitment to customer service to Tige customers.

Contact Info: Breakwater Marine
16099 Fraser Highway Surrey
Surrey, BC, Canada
604-572-4864
www.breakwater-marine.com

Celebrating its 25th Anniversary, Tige Boats continues to place innovation and passion at the heart of their boats. Today, Tige keeps these values alive with one common goal in mind—to make your ride better than anything else on the water. From their world-class manufacturing facility and across the 2016 product line, Tige's consistent design-driven mentality has refined the marketplace, while forever intensifying the love of life on the water. Become a part of it at tige.com.