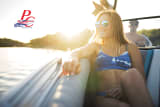 TIGE BOATS WELCOMES PINE CREST MARINE AS NEW TIGE DEALER
Abilene, TX – Tige Boats is pleased to welcome Pine Crest Marine to their world-wide family of dealers. Boasting years of experience, Pine Crest Marine is family owned and operated since 1948 and began selling tow boats in 1986. Pine Crest Marine is serving current and future Tige owners at two locations in Cedar Lake and Fishers, Indiana.
The Cedar Lake location will primarily cater to southern Chicago suburbs, and all counties between there and Indianapolis, containing popular lakes such as Cedar Lake, Lake of the Four Seasons, Lake Louise, Pine Lake and Bass Lake. The Fishers location will cater to Indianapolis and several surrounding counties.
"Our excitement for the Tige line was heightened after touring the Tige Boats factory and experiencing how much attention to detail and value goes into every boat," said Bob Gross, Owner, Pine Crest Marine. "The performance, high quality builds, colors, and standard features are just a few things that set Tige apart, but we're happy to partner with Tige because of the culture and Tige family itself."
Experience the power of Tige for yourself and check out Pine Crest Marine's full line of Tige Boats, including the flagship models RZX3 and ZX5, as well as the value-oriented R-Series models.
Tige Boats is represented by a worldwide dealer network. Dealership opportunities continue to be available both in the U.S. and internationally to those dedicated to carrying on the Tige legacy and commitment to customer service to Tige customers.
Contact Info:
Cedar Lake
14415 Lauerman St Cedar Lake, IN 46303 (219) 374-5771
Fishers
13333 Britton Park Rd Fishers, IN 46038 (317) 579-2628
Going on 28 years, Tige Boats continues to place innovation and passion at the heart of their boats. Today, Tige keeps these values alive with one common goal in mind—to make your ride better than anything else on the water. From their world-class manufacturing facility and across the 2019 product line, Tige's consistent design-driven mentality has refined the marketplace, while forever intensifying the love of life on the water. Become a part of it at tige.com.