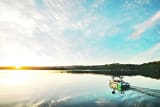 Tige Boats Welcomes Wedowee Marine as New Tige Dealer
Tige Boats is pleased to welcome Wedowee Marine to their world-wide family of dealers. Randy and Kathy Morris started Wedowee Marine Inc. 17 years ago in 2002 and have grown to 4 locations with over 30 employees. They have won numerous Sales and CSI awards with several manufacturers, providing the best of Southern hospitality to their customers.

"We are excited to partner with Tige Boats Inc. We feel Tige builds a high-quality boat with competitive pricing to serve our customers needs," stated Randy and Kathy Morris. Wedowee has two on-water locations on Lake Wedowee. They also cater to Lake Martin in the Auburn area, Lake Logan Martin in Pell City, Bartletts Ferry near Columbus Georgia and many others.

Wedowee Marine believes that what sets Tige apart from other towboats is the design of the boat, its efficient and patented hull, and its partnership with Indmar high-performance marine engines.

Experience the power of Tige for yourself and check out Wedowee Marine's full line of Tige Boats, including the flagship models RZX3 and ZX1, as well as the value-oriented R-Series models.

Tige Boats is represented by a worldwide dealer network. Dealership opportunities continue to be available both in the U.S. and internationally to those dedicated to carrying on the Tige legacy and commitment to customer service to Tige customers.

Wedowee Marine
9681 Hwy 48
Lineville, AL 36266
wedoweemarine.com
256-357-2045

Going on 29 years, Tige Boats continues to place innovation and passion at the heart of their boats. Today, Tige keeps these values alive with one common goal in mind—to make your ride better than anything else on the water. From their world-class manufacturing facility and across the 2019 product line, Tige's consistent design-driven mentality has refined the marketplace, while forever intensifying the love of life on the water. Become a part of it at tige.com.