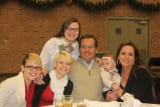 Tige celebrates highly successful year at Christmas party
Tige Boats capped off 2013 with the Tige Christmas Party at the Abilene Civic Center. With over 500 people in attendance, TeamTige was honored for their dedication to the growth of the business with good food, team camaraderie, music, dancing and family fun. During 2013, Tige launched industry-changing products including the 23-foot ASR and the patented wave-enhancing Convex VX.
"2013 has been an incredible year for Tige and the success would not be possible without our employees hard work and commitment," stated Rick Correll, President of Tige Boats. "I thank our team for their service and congratulate them on a tremendous year."
MVP performance awards were voted on by fellow coworkers in each respective department. The following employees were awarded as MVP's for the 4th quarter of 2013: Nora Ruedas, Mike Williams, Marshall Hill, David Daniel Martinez, David Jaramillo, Barbara LaFave, Maria Cantu, Uvaldo Granado, and Eddie Guglielmetti.