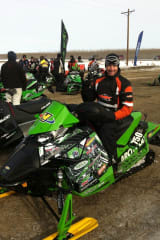 Tige Dealer, Paul Heinen, completes USXC Snowmobile Race
Paul Heinen, owner of Heinen's Motorsports in Osseo, Minnesota, finished 5th in the Masters division in the USXC, Seven Clans I-500! The snowmobile race ends with a total of 515 miles over a 3-day period and is one of three most renowned and prestigious snowmobile races in the country. The race terrain consists of everything from corn fields with waist high drifts to the frozen rivers to drainage culverts, ditches with road approaches and unplowed/low maintenance fire roads. The race began with 117 racers, but only 63 completed the 3-day course.
The original race was created in the 60's as a dog sled race. Once the snowmobile was created, they started to race snowmobiles instead of the dog sleds. It was originally ran from Winnipeg, Manitoba, Canada to St Paul, Minnesota. The intended finish of the race was to be during the St. Paul Winter Carnavel. Over the years, the snow conditions have become worse and the race course was changed over the years. This year was the 41st running of the I-500 on its on its current style of course, a "loop style". This consists of one approximately 175 mile loop a day for 3 days, with the total of the race coming to 515 miles. Each day, racers can make 2 stops for fuel.
Race: USXC, Seven Clans I-500
Where: Thief River Falls, Minnesota
Finishing Place: 17th in Pro & 5th in Masters 40+
Sled: 2014 Arctic Cat ZR 6000R Sno Pro