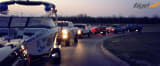 Tige Dealers Visit Factory
Last week we invited all Tige dealers to the Tige Factory for a tour and to spend some time on the water with us. We are fortunate enough here in Texas to have a very long summer unlike a lot of our dealers who are still battling a cold and snowy winter.
With the release of the Convex VX and the all-new Z1 being at the end of the year, some Tige dealers have yet to get on or behind one due to the winter weather conditions. After our dealers got to Abilene and toured our state-of-the-art factory, we headed down to The Cliffs Resort on Possum Kingdom Lake. (If you've never been to Possum Kingdom, I recommend you schedule a summer trip ASAP! It is by far one of my most beautiful lakes I have ever been to.) With temperatures in the 90's, we enjoyed a warm day with a group that shares the same passion we do.
Special thanks to all of our dealers who came out!