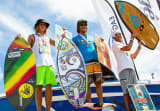 Tige Endless Wave Tour Names Series Champions at Texas Surf Showdown
The Tige Endless Wave Tour finished in style at the Texas Surf Showdown in Fort Worth, Texas. The EWT Champions were crowned as we all looked back on another amazing summer.
The Endless Wave Tour truly powered the wakesurf revolution by attracting top pro and amateur riders from across the world and having stops in California, Colorado, Texas and British Columbia, Canada. The EWT would not be possible without the help of generous sponsors including: PTM Edge, BoatMate, WetSounds, Zero Off, and Indmar Marine Engines.
TEXAS SURF SHOWDOWN WINNERS:
Pro Men's Surf
1- Chase Hazen
2- Aaron Witherell
3- Chris Kinsey
Pro Men's Skim
1- Dominic Lagace
2- Aaron Witherell
3- Sean Cummings
Pro Women's
1- Ashley Kidd
2- Raleigh Hager
3- Angie Viland
Outlaw Men
1- Hunter Clement
2- RJ Garcia
3- Colton Geer
Outlaw Women
1- Jennifer Concienne
2- Morgan Lohmeier
Amateur Men
1- Kyle Woodard
2- Thomas Garcia
3- Mitchell
Amateur Women
1- Madi Horta
2- Hana Darwin
3- Gentry Slayden
Junior
1- Erika Sos
2- Dino Wilson
3- Perry Morrison
Master's Men
1- Mike Viland
2- Kelly de Rivero
3- Rob Harrington
Master's Women
1- Janelle Harrington
2- Kristin Payne
Longboard
1- Dominic Lagace
2- Brandon Tolliver
3- Todd Johnson
ENDLESS WAVE TOUR CHAMPIONS:
(Best scores of 3 out of 4 stops)
Pro Men Surf Series Champs
1- Chase Hazen
2- Chris Kinsey
3- Aaron Witherell
Pro Men Skim Series Champs
1- Dominic Lagace
2- Aaron Witherell
3- Brandon Tolliver
Pro Women's Surf Series Champs
1- Ashley Kidd
2- Allison Sos
3- Angie Viland
Pro Women Skim Series Champ
1- Raya Walker
Outlaw Series Champs
1- Hunter Clement
2- RJ Garcia
3- Michael Concienne
Outlaw Women Series Champs
1- Jennifer Concienne
Amateur Men Series Champs
1- Kyle Woodard
2- Thomas Garcia
3- Ben Kendall
Amateur Women Series Champs
1- Madi Horta
2- Hana Darwin
Juniors
1- Erika Sos
2- Jessica Garcia
Masters Men
1- Mike Viland
2- Rob Harrington
3- Greg Lawrence