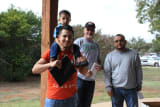 Tige Honors Team for a Strong 3rd Quarter
Tige Boats honored the dedication of the corporate and manufacturing team during the 3rd Quarter TQS at the Abilene Zoo. With the support from the community over the past 20 years, Tige Boats has built the most advanced inboard boat manufacturing facility in the world. Tige has soared to take over domestic and international markets and represents the impeccable craftsmanship of the finest employees in Abilene, Texas.
After a successful 3rd quarter with the launch of the new Apex Series and the ASR, the following employees were awarded as MVP's for their devotion and passion for Tige Boats: Marc Cedillo, Kenson Colbert, Ubaldo Rocha, Joe Murillo, Colton Kinder, Reyes Delapaz, Susana Murillo, Ricky Rodriguez and Danny Grimes.