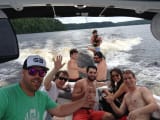 Tige Photoshoots with Dominic Lagace
I received an email from Tige to do a photo and video shoot in Las Vegas with the new Tige's for 2015. It took me about two days to get to the airport in Guadalajara. When I finally arrived in Las Vegas, Danny and Courtney were waiting for me. I have been to Las Vegas several times in the past few years. The landscape is nice from desert to palm trees to blue water.
The weather in Vegas was insane.The days were very hot, but mornings and nights were super cold. My teammate Adam Errington was there as well. He is one of the top wakeboarders and a super nice guy. We always have fun together. It's cool that wakeboarders like him can see us wakesurfing so they had a better idea of where the sport is. Angie and Mike Viland from Arizona came out to the shoot too. It's awesome to see a couple push and support the sport so much. It felt good to be riding behind the boat again. As much as I love surfing, wakesurfing is always going to be exciting and fun to me.
Photoshoots are always fun. We woke up super early every morning to get the best light. They bring all the different boats, and we shoot in all of them. I really like to work with the Tige Crew. Everyone is awesome and its obvious that they really enjoy their job. I like the fact that Tige is always improving to have the best boat out there, trying new things, and taking the boat industry to the next level. Everywhere I go I see Tige's on the lake, and all the Tige owners always tell me how happy they are with their boat, which is awesome.
We worked that week with the local dealer, Offshore Marine in Henderson. They were really nice guys and super stoked about wakesurfing. The area that we filmed was a private area, with private homes around, but they gave us the permission to film in the area. We heard that Celine Dion has a house on Lake Las Vegas so we had to be super on point and respectful of their rules.
It was cool to see the people from Tige and spend time with them. Now I'm back in Mexico with warm water and more fish.
Hi-5,
Dom Lagace