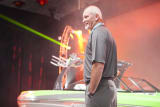 Tige President Highlights Industry Leaders Panel at MDCE
Rick Correll, Tige President, was selected as one of 5 industry leaders to sit on the panel at the Marine Dealer Conference & Expo. Rick will discuss the challenges and opportunities he see's for the industry in the next year. Attendees will also have the opportunity to ask questions of the panelists. The discussion will be moderated by Boating Industry editor in chief Jonathan Sweet. To submit questions for the panelists ahead of time, email Sweet at jsweet@boatingindustry.com.
"I'm thrilled with the caliber of leaders on this year's panel," Sweet said. "This will be a great opportunity for dealers to get the answers to their questions from some of the leading executives in the industry."
MDCE is being held November 17-20 at Orlando's Orange County Convention Center and is co-produced by the Marine Retailers Association of the Americas and Boating Industry. For more information, visit www.mraa.com/event/mdce.