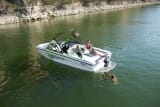 Tige R20 in Toys for Tots Auction
It's that time of the year again! Tige Boats and WakeWorld are teaming up to donate a custom 2014 Tige R20 to the 9th annual Toys for Tots online auction. Place your bids from November 26 – December 3 at wakeworld.com to be the owner of a brand-new, custom built 2014 Tige for your lake trips just in time for summer!
In years passed, families from around the country have purchased the WakeWorld auction boat as the perfect gift for the holiday season. "By purchasing our Tige through the WakeWorld Toys for Tots auction, we got our boat a great price and even had the opportunity to donate to a great charity," stated Doug Lindemann, winner of the 2009 WakeWorld auction.
The R20 for auction will come equipped with everything you need to fulfill your families summer dream. The 20-foot boat will come standard with features including an Indmar Fusion57 engine, your choice of deck accent and main panel accent color, your choice of graphics, Tige's patented Convex V hull and TAPS2, Tige cruise control, helm seat with flip up bolster, 900lbs ballast system, black powder-coated Tige Vector Tower with fixed board racks, and a premium sound system with four speakers. The R20 will also come with a single axle, black Boatmate trailer. As a bonus you will also receive daily updates of your new Tige being built.
For auction details and rules, visit wakeworld.com.