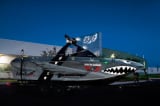 Tige RZX Named the Official Boat for Wake Warriors
Dave Deep, founder of Wake for Warriors and retired Marine, traveled from Georgia to Abilene to pick up his 2016 custom wrapped Tige RZX, now the Official Boat of Wake for Warriors.
Wake for Warriors has the mission of engaging with military veterans and their families by sharing their passion for wake and water sports.
It supports healing for both visible and invisible scars by providing veterans and their families an environment in which they can challenge themselves, while enjoying a few fun and relaxing days on the lake. It also allows them to re-engage with their brothers and sisters in arms. During this event, the veterans will have the opportunity to participate in adaptive water sports, including wakeboarding, surfing, and tubing, in addition to several other activities.
The four-year-old, rapidly growing organization has partnered with the Semper Fi Fund and Gatorbait Wakeboard School out of Miami. Also, with the support and amazing gratitude of Dave's neighbors on Lake Arrowhead he can host more events throughout the year. It is incredibly touching to see the "Friends of Wake for Warriors" that have donated their time, boats and homes for events in the past and many more events in the future! Wake for Warriors is a worthy, stand-up project that Tige Boats is proud to be a part of. We look forward in helping spread the word to our honorable wounded veterans that life on the water is not only achievable - it's unstoppable.
We could tell you all about it but a picture is worth a thousand words; visitwww.wakeforwarriors.org to see for yourself and get involved.
The Wake for Warriors custom wrap was designed and applied by Alpine Auto Graphics.