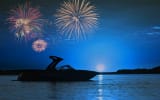 TIGE SPONSORS ANNUAL LAKE BROWNWOOD FIREWORK DISPLAY
The 2015 Annual Independence Celebration at Lake Brownwood on July the 4th is set up to be a great show. Tige Boats boats is excited to sponsor this grand event. With the Lake having received a lot of water, the festivities will be even more joyous than usual. Along with food and entertainment, the celebration will be climaxed at the spectacular firework display sponsored by Tige Boats.
If you do not already have plans, please join Tige Boats and the Lake Brownwood area community in celebrating the the birth of our great Nation! It will be a "blast," hope to see you there!
To learn more about our company, visit tige.com.