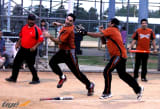 Tige Took Home The Win At Employee Softball Game
Here at Tige, we always encourage our employees to make the best of their time, from making friends at work, to doing the Harlem Shake for the security cameras, to spending their Spring time evenings playing for one of the Tige employee softball teams.
Tige Boats had two employee teams in our city softball league this year. Last night the time came when Tige 1 and Tige 2 (a lot of thought went into our team names) were scheduled to play each other. The competition was intense by nature, but smiles and laughter were in full force. The stands were filled with non-softball-playing Tige employees, families, children, and even dogs cheering on Team Tige.
The guys had such a great time... Until one of the teams had to lose. Tige 1 took home the win, and it was a big win at that with a final score of 20-2. In our book, Team Tige took home the win!
The teams have two games left for the season: May 14 and May 21. To see all pictures from the game, click here.