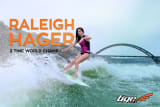 Tige welcomes Raleigh Hager to their pro wakesurf team
ABILENE, TX -- Tige Boats is excited to welcome Raleigh Hager to their elite team of Pro Wakesurfers. Born and raised in Austin, TX, Raleigh is the "one to watch" in the Pro Women Surf category and is one of the most recognized females in the sport. The 2 Time World Champion regularly surfs Lake Austin behind her 2016 Tige RZX with the TAPS 3 Surf System.

"I'm excited to be on a fun team with so many talented people," said Hager. "The RZX is a blast to ride, and is now my favorite wave of all time. I'm training hard every day and am very honored to be a part of the Tige family." Known for her fluid style and powerful airs, Hager is ready to dominate 2016 with her world-class talent. It's undeniable that the up and coming young athlete is passionate, competitive and ready to take her career to the next level.
Look for Hager as she continues to do it all and win it all, while pushing new boundaries in the sport. Hager joins Wakesurfers Emily Agate, Dominic Lagace and Chris Kinsey on the Tige Pro Team.
Celebrating its 25th Anniversary, Tige Boats continues to place innovation and passion at the heart of their boats. Today, Tige keeps these values alive with one common goal in mind—to make your ride better than anything else on the water. From their world-class manufacturing facility and across the 2016 product line, Tige's consistent design-driven mentality has refined the marketplace, while forever intensifying the love of life on the water. Become a part of it at Tige.com