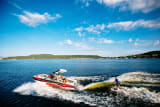 Top 5 RZX2 Features with Pro Wakesurfer Allison Sos
Allison Sos has been making a name for herself in the wakesurf scene for a few years now. Now, she's doing it with an all-new boat for Tige, the RZX2. Here are her five favorite things.
The wakesurf wave. This boat has the power of the RZX3 in a 22-foot version. The smaller size of the boat makes it easier to weight, but you get the same shape and push as the RZX3. The wake is incredible, and you can do anything on it, from surfing giant waves, to wakeboarding, and slalom skiing.
The seating arrangements. From the giant bow, to the reverse seats on either side, to the pull out reverse seat in the back; everything in the RZX2 is comfortable and well thought out. It's great for watching wakesurfing or any other sport.
The dash and CLEAR touchscreen. The whole set up is super easy to use and gives the driver complete access to everything in the boat; from music, to lighting, to speed controls. There's a new backup cam that you can view from the screen, which is helpful when there are riders behind the boat the driver can't see.
The Alpha E2 Power Tower. This might be one of my favorite things on the new boat. For those of us that have to stow our boats in low-ceiling garages or storage places, the Alpha E2 makes putting the boat away that much easier. Push a button and seven seconds later the tower is up or down.
The lines. I'm a stickler for looks, and the RZX2 looks so good on the water. She sits a bit shallower than her big sister, the RZX3, so it's a sleeker look, which I love.
More on Allison here, and more on the RZX2 here.