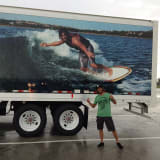 Traveling Florida With Dominic Lagace
After an amazing time in Georgia for the Wakesurf Nationals, Keenan and I drove back to Orlando where Keenan has a house now. Orlando is definitely THE wake town where all the best wake boarders and people in the industry, like magazines, photographers, and boats, flock.
With so many lakes and the amazing weather all year round, it's not a surprise that Orlando is so famous… and plus there's Disney World with Typhoon Lagoon.
In Orlando we spent the days riding and improving. I think it's so cool when I can ride with riders in my category—I always learn a lot and it's almost like a pro clinic with all of us coaching and challenging each other to try new things.
One weekend we hit the super famous Surf Expo in downtown Orlando. The Surf Expo is the biggest expo of the wake, surfing, paddle, and skate industry, and everybody is there—the best brands of all the boats, gear lines, and boards… every single one!
Surf Expo is produced in January and September and brings in people from around the world. The show features hundreds of booths that sell goods as well as a full line-up of special events that include fashion shows, annual awards ceremonies, and demos. Thousands of buyers and exhibitors turn out per show! The vibe is super cool and all of the brands show their next year's catalog with all of their new products. I was in the liquid force stand where my new pro model board was—it looks sick! I'm really excited to ride it and I'm sure everyone is going to love it. I also did a photo shoot with Liquid Force with all of the new boards for 2015!
It's very impressive to see all of the wakesurf boards from so many different brands. It blows my mind how popular and how much recognition the sport has been getting. I always knew that it was just question of time, but everything is going really fast!
I was able to see friends from Argentina that I hadn't seen in years, and it was awesome to catch up and see that everyone was still riding at either the same or higher level of stoke. I also found myself in a big truck of inland marine, which was really cool.
Tige's booth with all the beautiful boats looked great. The ASR looks amazing and has created a lot of expectations… Tige has been getting even more popular too!
We went out some nights in Orlando and relaxed other days. I like to keep fit with some stretching and yoga during the day, going to sleep early, eating healthy, and also riding but not pushing it too hard. The weather during the summer in Orlando is very humid and we had random rains almost every day. On the full moon, Scott Culp, Keenan and I went and rode behind the moonlight, which was so cool. Luckily gators love to sleep… ha!
On Friday we drove to Fort Lauderdale for Noah's 17th birthday and also the start of the Wakeboard World Championship, where people from everywhere in the world came to compete in the last competition of the season in wakeboarding. They organized a party for Noah at Dean Lavelle's place. Dean is an amazing guy and coach and this is the place where Noah and Keenan grew up. The party was great and Noah is such a rad kid—he was born to be an athlete! I remember when he was just 11 at the sports illustrated kid of the year or something like that. He rips and is only 17!
I love this family. Kirsten, Todd, Keenan and Noah provide a great example of a sports family—they love each other so much and take care of each other in such a beautiful way. It's impossible not to like them.
It was really cool to be in the middle of such a great wakeboard competition and being able to hang out with all of the riders and see where the sport is now. The level of riding is ridiculously sick! Wakeboarding was the sport that fist put me on a boat and riding is such a fun experience to me. I also have amazing teammates; they seem to have a whole different idea of what wake surfing is and what we can do in that wave. I'm very happy for that!
I loved seeing how both sports are getting closer and closer and everyone can enjoy them. I had a great time with everyone and the next adventure is soon to come. :)
Hi-5 Dominic Lagace