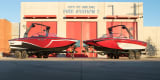 TWO TIGE BOATS ON AUCTION; PROCEEDS BENEFITING THE CALIFORNIA FIRE FOUNDATION
Abilene, TX – Tige Boats has graciously committed to donate and auction off two new Tige Boats that will directly benefit the California Fire Foundation. The wildfires in California have devastated and destroyed thousands of homes and caused hundreds of thousands of people to evacuate, leaving behind everything. Firefighters have worked endlessly, tirelessly, and risked their lives to battle the blazes.

In 1991, Tige Boats Owner and CEO, Charlie Pigeon, founded Tige in Merced, California. Today, Tige Boats is located in Texas. With the help of the Tige family around the globe, we can pull together and provide financial and emotional assistance to families, firefighters, and the communities effected by the fires. "Those effected by the fires in California have been laying heavily on our hearts," stated Charlie Pigeon. "We just want to do our part by helping out the true heroes, their families, and the communities they protect."

The two brand-new, well-equipped boats on auction will be a 2018 Tige R20 and 2018 Tige Z1. The bidding will begin at $50,000 per boat. Tige guarantees a donation of $20,000 to CA Fire Foundation, plus all of the money raised thereafter through the auction.

The 2018 Tige R20 has a MSRP value of $97,207 and the 2018 Z1 is valued at $117,615. View the auction here.

ABOUT THE CALIFORNIA FIRE FOUNDATION
Formed in 1987 by the California Professional Firefighters, the California Fire Foundation is a non-profit organization that provides emotional and financial assistance to families of fallen firefighters, firefighters and the communities they protect. They participate and provide care for the CA Firefighters Memorial, firefighters and their families, victim assistance, community improvement, and they offer scholarships and grants.

ABOUT TIGE BOATS
Going on 28 years, Tige Boats continues to place innovation and passion at the heart of their boats. Today, Tige keeps these values alive with one common goal in mind—to make your ride better than anything else on the water. From their world-class manufacturing facility and across the 2019 product line, Tige's consistent design-driven mentality has refined the marketplace, while forever intensifying the love of life on the water. Become a part of it at tige.com.