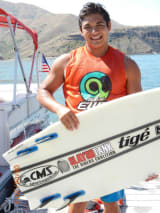 Useful Tips from Pro Wakesurfer Chris Kinsey
Throughout my wakesurfing career, I have gathered a large amount of knowledge about wakesurfing and watersports in general. Here are some general tips and that I've learned from through my experience on the water.
EVERY RIDER IS DIFFERENT
Every rider prefers a different board and shape of wave. Whenever I was younger, we would go out with a boat full of people and make everyone to ride the exact same wave. We assumed that everyone could ride the same wave easily and didn't care to adjust the wave for anyone. From my experience, less aggressive riders prefer a slower wave, which makes for an effortless cruise. The best way to shape this wave is to slow the boat down and flatten out the wave with TAPS2. The speed and firmness of wave is now drastically reduced. Slowing down too much creates a giant white wash foam pit of death or sends the rider into the back of the boat. Inherently, slowing down makes the wave very short. To combat this, lengthen out the wave with taps or a trim tab by putting it on a lower setting. I've found that this method of shaping the wave works best for children, beginner to intermediate riders, and riders who are looking for a wave that doesn't require as much effort.
Whenever children are riding scaling down the wave is a must. Whenever kids are wakesurfing, first impressions of wakesurfing usually pivot between extreme fun and extreme fear. Scaling down the wave for a child helps them tremendously. Speed can also be reduced since the wave does not have to propel as much weight. However, more aggressive riders call for a more aggressive wave. In order to do aerial based tricks, the wave is going to have to be tall and firm. The best way to do this is to set your taps or trim tab to a higher setting and increase the speed of the boat.
RIDING WITH THE ROPE
At first, riding with the rope is essential. Riders should use the rope to get their feel and balance of the wave and the board. Whenever I teach, I tell my riders to hold onto the rope with their back hand and practice speeding up by pressing down on their front foot, and slowing down while pressing down on their back foot. Whenever a rider appears to have slack in the rope and could potentially ride ropeless, the rope should be taken away. The rope is beneficial in early stages of riding but becomes a huge hindrance once the rider progresses. The rope creates a false sense of security and throws off balance. Although the rider might feel more comfortable with the rope, they always have better balance without it.

RIDING WITHOUT THE ROPE
For some riders, it is extremely hard to ride without the rope. There are a few things to take into account if a rider is having this issue. Shoulder position is the main factor that people have trouble with. Whenever people have trouble keeping up with the wave, it usually results from the front shoulder pulling them out of the wave. The blue line in the picture below represents the angle your shoulders should mimic. If the rider is looking to speed up or keep up with the boat, their shoulder should be tucked inward towards the wave. Most people who have trouble keeping up with the wave usually have their front shoulder facing the opposite direction, which causes a loss of momentum.
PROGRESSING
The best way to progress is to set goals for yourself. Before I go out and ride, I set a goal or two and do not stop riding until I complete them. Make sure your goals are attainable and don't set anything too unrealistic. Setting goals creates a good benchmark for progression. If at first you don't succeed, get a GoPro. If I'm having trouble progressing on a trick I refer to the footage I have and pinpoint exactly what I'm doing wrong.