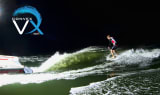 Video: A Word with Chase Hazen
Chase made an appearance at the St. Louis Boat Show in mid-February. While Chase was out there doing his thing (taking pictures, signing autographs… you know, pro-athlete type things), he continually got asked about the Convex VX, how it worked, and if he really was impressed with it.
We decided to get down to the facts about how Chase felt about the wave behind the Convex VX. Check out this video…
Well, there you have it, straight from the mouth of Chase Hazen.
Find out more about Chase on his personal blog, here.