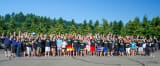 Mark and Jill Crowell of Cornelius were inspired to bring Wake the World to Hagg Lake after several years of donating their boat to Sweet Home's event. Wake the World is a group of boat owners providing watersports opportunities to abandoned, abused and neglected children, as well as for the handicapped and our wounded warriors.
Wake the World brought 26 foster families to Hagg Lake just south of Forest Grove Monday, thanks to a Cornelius couple. The national organization puts foster families in boats for a free day of watersports and food. While the organization started in 2008, this was the first time it made a splash in northwest Oregon.
By word of mouth, the Crowells found 32 boats, raised $10,000 at a January auction and got community sponsors such as Real Life Christian Church of Cornelius to provide food.
Linda Huddleston, a local foster mom, said the event is a "dream" for many of the kids, who've never had the opportunity to ride in a boat. The bouncing made foster sibling Ayiana's neck feel "like it was going to crack," but even that didn't stop her from begging for another spin: "Can we please go one more time? Please?"
The kids left with backpacks filled with toothpaste, toothbrushes, stickers, wristbands, wakeboarding magazines, temporary tattoos and — Crowell hopes — memories of bouncing up and down, catching some air.