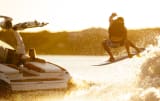 Wakesurf Shootout Amateur Tournament -- Katy, TX
KATY, TX -- August Lakes and Texas Tige Marine are excited to officially announce the Houston Metro area's only amateur wake surfing tournament. The Wake Surf Shoot Out will take place at August Lakes on July 30, 2016. To kick off the tournament, there will be a pre surf celebration on Friday July 29.
August Lakes is the newest wake board, wake surf, and watersports community in the Houston area. This premier development is situated in Katy Texas at 3707 Pitts Road in a serene setting. Texas Tige Marine is South East Texas' exclusive Tige Boats and South Bay Pontoon dealer. The dealership has been in business for 12 years and frequently participates in local wakeboard and wake surf tournaments. The Wake Surf Shoot Out brings the world class private lakes of August Lakes together with the dynamic wave producing family of Tige competition wake surf boats.
A crowd of more than 500 is expected for the pre surf celebration on Friday July 29. Festivities start at 3 pm and include stand up paddle board relays, wake surf demos, live music, and gourmet food trucks.
Over 50 amateurs will hit the water on Saturday July 30. Surfing begins at 9 am and goes through the entire day until awards are handed at 7 pm. Wake surf demos will also be taking place through the day.
Sponsors of the Wake Surf Shoot Out include Tige Boats, LakeLessons.com, Chaos Surf Company, Katy Media Rooms, WetSounds, Proxamus, Hangar 9 Wake Park, Inland Surfer, and Jobe SUPs.
Contacts – Eddie Valverde – 281-630-9844 & Todd Fogelsong – 281-850-3067