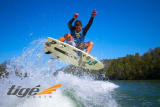 Wakesurfing Tips: Speed and Rope Length
When people ask me about wakesurfing speeds, every boat (and every speedometer at that speed) is pretty different. Generally between 8 mph on the low end to 13 mph on the high end is about right, but it all depends on what your wake looks like.
For wakesurfers, you want to be right at, or possibly just behind, where the wake is curling over. If you're too far in front of the curl, you're in front of the sweet spot. If you're at, or slightly behind, the curl, you can easily shift your weight forward or even pull yourself forward into the sweet spot. You should buy a surf-specific rope that will give you about 15 feet of length to work with, although you'll likely only need about 10 feet.
About the author: Greg Young has been teaching wakeboard lessons professionally for about 9 years. He's one of the owners of Northwest Riders Clothing Company based out of Seattle (FYI: You can buy it at evo Seattle and evo.com), and operates a wakeboard lessons business on Lake Washington as a promotional tool (but mostly an excuse to be on the water every day) for Northwest Riders. His company is sponsored by Tige Boats, Hyperlite Wakeboards, Lynnwood Motoplex, Sunstream Boat Lifts, Diecutstickers.com, and the Seattle Boat Show. He is also one of the owners of Woodmark Waterfront Adventures, a boat and waverunner rental business based out of Carillon Point Marina in Kirkland, WA.