Convex V Hull
Tige's masterfully engineered Convex V Hull and TAPS technology makes Tige the first and only inboard to feature full trim capability.
MASSIVE VERSATILITY
Versatility is at the heart of every Tige model. Only with a Tige will you experience the most powerful wave and most push found anywhere between the oceans, the biggest wakes for wakeboarding, and the most accessible slalom set with your family and friends in tow.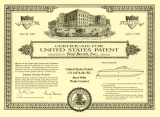 POWERED BY PATENTS
Our Convex V Hull (Patent #6874441) is curved up toward the transom with a continuous rocker similar to that of a wakeboard or surfboard.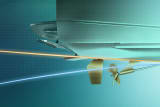 PROVEN BY SCIENCE
Every millimeter has been calculated, sculpted, and proven to work in synergy with nature, the laws of physics, and, more specifically, the Coanda Effect— the effect causing fluid to adhere to a curved surface.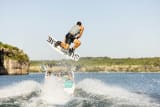 WE GOTTA HAND IT TO YOU
Instead of a permanent hook, TAPS gives you precise control over the running attitude and wake shape. Dial in the perfect wake for any sport, rider, or skill level.
BENEFITS OF THE CONVEX V
The Convex V Hull and TAPS, Tige's patented system, is often imitated but never duplicated. Other manufacturers offer wake plates and drag hardware, but without the Convex V Hull shape they are unable to reproduce our results. It's no wonder Tige is the clear choice for boating enthusiasts who crave the superior handling and wake performance of an inboard.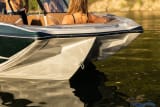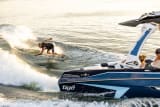 TAPS 3T
TAPS 3T maximizes the natural capabilities of the Convex V Hull. Any configuration or running attitude necessary to create optimum performance is the product of TAPS 3T shifting the Convex V Hull into its prime performance position.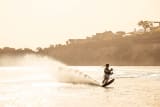 WELL-VERSED IN VERSATILITY
Tige is the only inboard that allows you to go from a wakeboarding wake to a slalom wake in less than five seconds. Just push 'GO' and your cruise control, ballast, and TAPS 3T settings will automatically be set.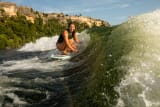 NATURAL PERFORMER
Tige is the only inboard that can produce an ocean-worthy wakesurfing experience. Full trim capability and the unique shape of the Convex V Hull allow you to dial in a clean sweet spot with enough push and power to keep you going all day.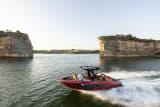 COMFORT AND SAFETY
The ability to make precise adjustments to running attitude allows the driver to soften the ride and reduce noise, always keeping passengers comfortable, safe, and dry.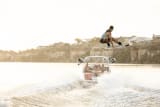 FUEL ECONOMY
Our unique hull shape was designed to work with the flow of water. This combined with the Indmar Raptor engine and our precise torque ratios are sure to save you more than just your time at the pump.