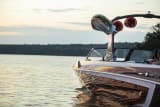 Tige Boats Inc. Announces Charlotte Ski Boats has Joined their Worldwide Dealer Network
Abilene, TX -- Tige Boats Inc. is pleased to welcome Charlotte Ski Boats to their worldwide family of dealers. Charlotte Ski Boats is the premier dealership for Tige Boats & ATX Surf Boats in North Carolina. CSB is located just north of Charlotte in Mooresville, NC, right off Lake Norman. CSB sales growth has allowed them to expand their service department and implement a four-stage expansion plan to better serve their customers and boating community throughout the Carolinas.
As a close-knit small business, Charlotte Ski Boats always stays in touch with their customers, even as they grow. They have taken time to pace themselves and the growth of CSB to maintain focus on key principles the business was founded on. "We do this for the entire CSB family, including our team of employees, clients, advocates, and sponsors. Charlotte Ski Boats works throughout the year to share our love for watersports and the culture and promote safe boating, fun times, and the exhilaration of the boating lifestyle," stated Amanda Levandowski, Owner of Charlotte Ski Boats. "We are focused on developing our employees professionally and personally to better our brand as positive pillars in the community. Together, we proudly share the love of the water."
Versatility and powerful performance are the foundations on which Tige's are built. Experience them for yourself and check out Charlotte Ski Boats' full line of Tige Boats and ATX Surf Boats, from the 25ZX through the ATX 20 Type-S.
Tige Boats Inc. is represented by a worldwide dealer network. Dealership opportunities continue to be available both in the U.S. and internationally to those dedicated to carrying on the Tige legacy and commitment to customer service to Tige customers.
Charlotte Ski Boats
1206 Brawley School Road
Mooresville, NC 28117
(704) 525-6006
https://www.charlotteskiboats.com/