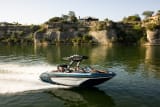 Tige Boats, Inc. Welcomes Adirondack Marine to Their Family of Dealers
Abilene, TX -- Tige Boats Inc. is pleased to welcome Adirondack Marine to their worldwide family of dealers. Adirondack Marine, founded in 1958, is turning to Tige Boats and ATX Surf Boats as an ideal fit for the watersports community centered around upstate New York.
"Tige offers exceptional quality in a towboat, combining superior design, innovative features, and next-gen technology with the durable value our customers trust us to deliver in every boat we sell," said Jeff Roach, President of Adirondack Marine. "With many similar advantages at a competitive price point, ATX is an attractive option. We're proud to offer our customers the excellent choices Tige and ATX represent."
Adirondack Marine, located on Lake George, is one of the largest dealers of new and pre-owned inboard boats in the Northeast. From the early days of wooden ski boats to the phenomenal capabilities of modern towboats, the family-owned and operated business has fostered and supported enthusiasm for wake sports. With a devotion to watersports and a reputation for outstanding service, Adirondack Marine represents a loyal following of customers throughout upstate New York and western Vermont, including Lake George, Lake Placid, Saratoga Lake, Lake Champlain, and the many smaller lakes in the region.
Tige Boats Inc. is represented by a worldwide dealer network. Dealership opportunities continue to be available both in the U.S. and internationally to those dedicated to carrying on the Tige legacy and commitment to customer service to Tige customers. Stop by Adirondack Marine to explore the lineup of Tige and ATX boats, from the Tige 25ZX through the ATX 20 Type-S.
Adirondack Marine
3226 Lake Shore Dr.
Lake George, NY 12845
(518) 668-2658
https://www.adirondackmarine.com/
Tige Boats, Inc. is a world-renowned innovator, designer, and manufacturer of high-performance inboard boats. Celebrating their 31st anniversary, Tige has cultivated its iconic brand image through their industry-leading innovation, luxurious diamond-stitched interiors, and multisport versatility. From their world-class manufacturing facility and across the 2023 product line, Tige's consistent design-driven mentality has refined the marketplace while forever intensifying the love for wakesurfing, wakeboarding, and waterskiing. Experience the 2023 Tige and ATX lineups now at TIGE.COM / ATXBOATS.COM