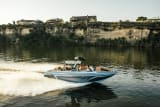 Wake Authority Joins Tige Boats Worldwide Family of Dealers
Abilene, TX -- Tige Boats, Inc. is pleased to announce Wake Authority has joined their worldwide family of dealers. As a dealership specializing in premium products and an excellent customer experience, adding the Tige and ATX brands to the Wake Authority family was a natural fit.
Wake Authority is a family-owned company started in 2017 as a lake apparel company. Wake Authority loved the idea of wakesurfing, so as a couple of years went by, Wake Authority bought into the wakesurfing company Brigade. They are providing watersport enthusiasts and dealers with high-quality wakesurf boards. Wake Authority found Tige and ATX Surf Boats to be the best surf boat company to allow their customers to maximize their time out on the water. "There is no company like Tige Boats. When it comes to dealer relations and customer satisfaction Tige is hands down the best in the industry," said owner, Stephen Christian.
Wake Authority, located in Carthage, TX, caters to all of the East Texas areas, with surrounding lakes being Lake Tyler, Lake Palestine, Lake Cherokee, and Lake Murvaul. It also serves West Louisiana with lakes like Cross Lake, Sabine River, and Toledo Bend.
Tige Boats Inc. is represented by a worldwide dealer network. Dealership opportunities continue to be available both in the U.S. and internationally to those dedicated to carrying on the Tige legacy and commitment to customer service to Tige customers. Stop by Wake Authority to explore the lineup of Tige and ATX boats, from the Tige 25ZX through the ATX 20 Type-S.
Wake Authority
422 E Sabine
Carthage, TX 75633
903-631-2002
https://wake-authority.com/