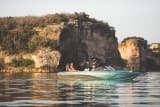 TIGE BOATS WELCOMES THE BOAT LOCKER AS A NEW TIGE DEALER
Abilene, TX -- Tige Boats is pleased to welcome The Boat Locker to their worldwide family of dealers. Located just outside of Nashville, Tennessee in Hermitage, The Boat Locker will service current and future Tige owners in several surrounding counties.
Mark Sheriff, Owner of the Boat Locker, has been dedicated to the boating industry for over 30 years. Mark's experience combined with outstanding customer service and a knowledgeable staff makes The Boat Locker one of the most highly recognized dealerships in the Nashville market. "Tige offers our customers a chance to get into a wake, surf and ski boat that can do all three sports very well," said Lee Tudor, General Manager. "We believe the boats offer versatility, performance and styling, all in one package, and the addition of the R-Series line makes Tige a one-stop shop."
You can find Tige Boats currently in The Boat Locker showroom, and at the Nashville Boat Show on January 18-21, 2018 where they will proudly be displaying 2018 R21, Z3 and Tige's flagship RZX3.
Tige Boats is represented by a worldwide dealer network. Dealership opportunities continue to be available both in the U.S. and internationally to those dedicated to carrying on the Tige legacy and commitment to customer service to Tige customers.
Contact Info: The Boat Locker
4010 Sells Dr.
Nashville, TN 37076
615-834-2461
www.theboatlocker.com